IUPAB2024, a Joint Congress of the 62nd Annual Meeting of Biophysical Society of Japan (BSJ) and the 21st International Union of Pure and Applied Biophysics (IUPAB) Meeting will be held in Kyoto, June 24-28, 2024, chaired by Prof. Hiroyuki Noji of University of Tokyo. The annual meeting will be held in-person and will comprise of series of symposia covering topics under the 'biophysics' umbrella.
Prof. Ryo Mizuuchi, Waseda University (chair) and ELSI Specially Appointed Associate Professor Tony Z. Jia (co-chair) will hold a symposium on Origins of Life at the IUPAB2024 annual meeting on June 28, 2024, from 10:00AM-12:20PM JST. The symposium will focus on a wide range of topics in origins of life research featuring speakers from around the world, all of whom are early career researchers.
Invited Speakers:
Anna Wang (UNSW-Sydney), Australia
Shunsuke Tagami (RIKEN), Japan
Moran Frenkel-Pinter (Hebrew University), Israel
Seung Soo Oh (POSTECH), South Korea
Additionally, the symposium will also include a number of contributed presentations from submitted abstracts.
Date and Time: 10:00AM-12:20PM on June 28, 2024
Venue: Kyoto International Conference Centre
Early-bird registration will close on February 29th, 2024; Regular registration will be available until the end of the conference.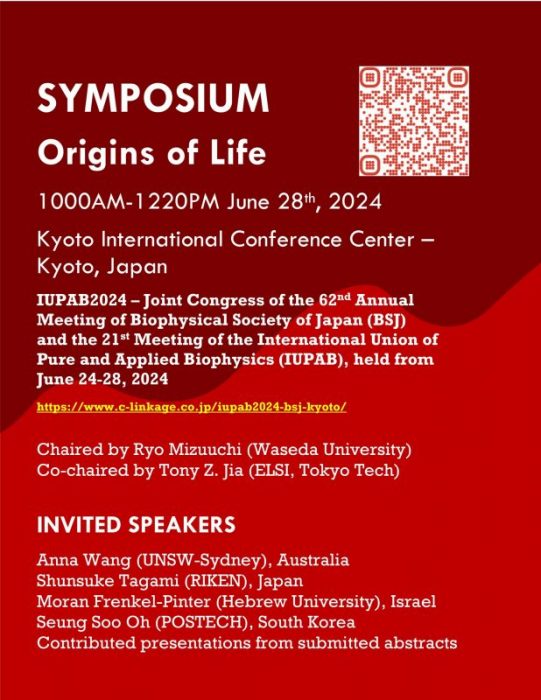 Download the flyer here.