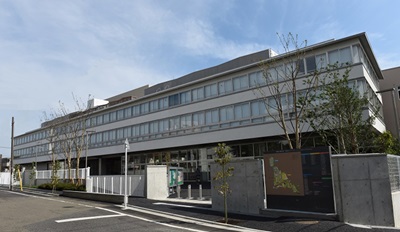 ELSI-1
(Ishikawadai Campus Bldg.No.7)
By acquiring a supplementary budget from MEXT, the long-awaited research building ELSI-1 (total floor area of 4970㎡) was built in 2015 in the Ookayama campus. The building was designed under the concept of "harmony between Japanese and western styles", paying attention to a good balance in research and communication spaces.
The basement houses an electron microscope room, focusing ion beam room, high-pressure experiment lab, geochemistry experiment lab, and chemical evolution lab.
The entrance on the 1st floor features an open information-sharing space called "the Gallery", and a lecture hall (Mishima Hall) that can hold over one hundred people. The 2nd and 3rd floors will include compact and functional research rooms for ELSI researchers and extended-stay guest researchers.
The open-ceiling communication room on the 2nd floor, called the Agora, can be used by many researchers to participate in interdisciplinary communication.
ELSI-2 (Ishikawadai Campus Bldg.No.8)
ELSI started in 2012 in an existing building of 2670 m2 renovated for the new institute, currently called ELSI-2.
The 1st floor includes a large communication room (called the Lounge) with continent-shaped tables, a giant blackboard, and a refreshment area. Researchers utilize this space for monthly meeting of the whole institute (ELSI All Meeting), seminars, and various communication opportunities.