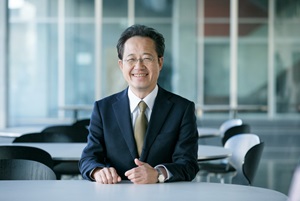 Message from the President
Kazuya Masu President Tokyo Institute of Technology
The Earth-Life Science Institute (ELSI) was launched in 2012 with generous support from the World Premier International Research Center Initiative (WPI), MEXT*. In just a few years, ELSI has grown into a fully formed and mature institution. We at Tokyo Tech are proud of the accomplishments of ELSI, which include a highly successful recruiting strategy, the establishment of a global collaborative network of world-leading scholars, and a genuinely international environment that welcomes researchers from all over the world. ELSI is intended to be a role model for the university as a whole, and forms a key part of my vision for Tokyo Tech to become a top global university. Diversity is one of the key factors in making new discoveries, tackling new fields of study, and surmounting challenges in research. ELSI is leading Tokyo Tech with its diversity in members that address a wide range of research topics. ELSI is now established as a permanent independent institute, and operates directly under the Tokyo Tech president. ELSI's scientific leadership has been rewarded with both a large amount and a variety of foreign and domestic funding. ELSI's future is bright and it will continue to grow and enhance its vigorous research activities long after the initial WPI grant period expires. Seeing how far ELSI has come in these years, I am excited by our shared future. Let's continue to rise together. *MEXT: Ministry of Education, Culture, Sports, Science and Technology
---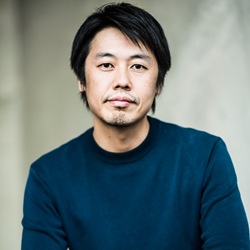 Message from the Director
Yasuhito Sekine Director, Earth-Life Science Institute
In the first ten years, ELSI provided the view of the sequence of diversifications and selection mechanisms that gave rise to the current Earth-Life system. While keeping existing approaches at ELSI to understand key transitions toward the emergence of our Earth-Life system, we will explore new approaches to understanding and predicting the possibilities of alternative planet-life systems which may exist anywhere in the Universe. We will work in close cooperation with space exploration missions by extending the research scope from the Origins and Evolution of the Earth and Life to include searching for evidence of extra-terrestrial life.
---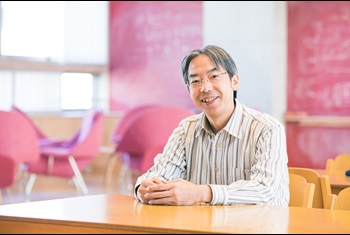 Message from the Former Director
Exploring the origins of the Earth and life
Kei Hirose Former Director, Earth-Life Science Institute
How did the Earth form and what was the early Earth like, how did life emerge and evolve in its early environment, and what does the answer imply for the possibility of life elsewhere in the universe? The Earth-Life Science Institute (ELSI) is a one-of-a-kind, internationally recognized, world-class research institute established in 2012 to address these questions.
As a World Premier International Research Center (WPI Center) based at Tokyo Institute of Technology, our mission is to facilitate breakthroughs at the frontier of science by attracting and interacting with the best minds from around the world, to promote interdisciplinary research in Origins of Earth and Life Science, and to play a leading role in implementing and promoting administrative innovation and organizational excellence among universities in Japan.
ELSI has cultivated a multidisciplinary international community of researchers, integrating disciplines to study the Origins of Life within the context of the Origin of the Earth and other planets. ELSI hosts dozens of short- and long-term visitors to develop innovative ideas. We are committed to science education and also sharing our research with the general public. All are welcome to visit ELSI and join our quest to understand the origins of Earth and the life it supports.
---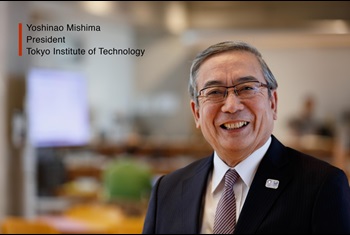 (Archive: 2016) Message from the Former President
Yoshinao Mishima
The Earth-Life Science Institute (ELSI) was launched in 2012 with generous support from the World Premier International Research Center Initiative (WPI), MEXT, and in just a few years ELSI has grown into a fully formed and mature institution. We at Tokyo Tech are proud of the accomplishments of ELSI, which include a highly successful recruiting strategy, the establishment of a global collaborative network of world-leading scholars, and a genuinely international environment that welcomes researchers from all over the world. ELSI is intended to be a role model for the university as a whole, and forms a key part of my vision for Tokyo Tech to become a top global university. ELSI is now established as a permanent independent institute, and operates directly under the Tokyo Tech president. ELSI has grown into its own custom-made buildings and laboratory facilities, designed by a Tokyo Tech architecture team in a style that reflects the international fusion that regularly occurs in the institute. I am also impressed that ELSI members have attracted a large amount and variety of external funding, including a large private foundation grant of US$5.5M (in total over 3 years) from abroad. This great beginning gives us confidence that ELSI will continue to grow and enhance its vigorous activities long after the initial WPI grant period expires. Seeing how far ELSI has come in these five years, I am excited by our shared future. Let's continue to rise together.