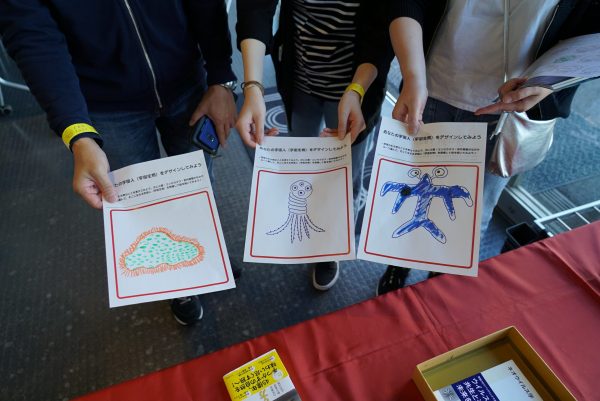 The annual Tokyo Tech Festival – Koudaisai – will be held at the Ookayama Campus on 28 and 29 October. Around 50,000 visitors are expected this year, and the festival will feature a wide variety of science engagement and entertainment events.
ELSI Koudaisai Organising Committee with students, support staff, and researchers, has organised a series of activities for the visitors.
ELSI Science Lectures: Learn about ELSI's interdisciplinary research from planets to life and ask ELSI scientists your questions!
Day 1: October 28
13:00-13:30 (Shunsuke Nozaki) A Journey Through the 'Water' of the Solar System
14:30-15:00 (Rei Abe) Reconstructing Ancestral Proteins to Reveal the Origin of Life
Day 2: October 29
11:00-11:30 (Shintaro Kadoya) How Has the Earth Maintained Its Oceans?
14:00-14:30 (Maxwell Craddock) Life in Our Solar System
14:40-15:10 (Aileen Cooney) Let's Understand Life Through the Creation of Life!
Koudaisai Stamp Rally: Join the Tokyo Tech Stamp Rally with ELSI at Kodaisai!
Virus and Bacteria Photobooth: Take a photo with illustrations of viruses and bacterias discovered by ELSI Scientists!
Design Your Alien: Imagine and draw extraterrestrial life with scientists!
Designing Habitable Planets and extraterrestrial life Using AI: Create your own planets and design life with the help of AI!
Hydrothermal Lab Tour: Experience a "deep-sea hydrothermal vent"!
Day 1: October 28
10:30-11:15 Lab Tour A
13:45-14:00 Lab Tour B
16:00-16:45 Lab Tour C
Day 2: October 29
10:30-11:15 Lab Tour A
15:30-16:15 Lab Tour B
Museum of Evolving Earth: Visit the museum and learn the history of our planet, Earth and how life emerged. (Opening times: 10:30 – 16:00)
Day 1: October 28
11:30-12:00: Tour A
15:15-15:45: Tour B
Day 2: October 29
11:30-12:00: Tour A
13:00-13:39: Tour B
Ryugu Sample Display Exhibition: Enjoy the valuable extraterrestrial stone which Hayabusa2 spacecraft brought from asteroid Ryugu.