A science communication course at the Earth-Life Science Institute (ELSI) in Japan provides graduate students with practical skills to communicate research to a diverse audience.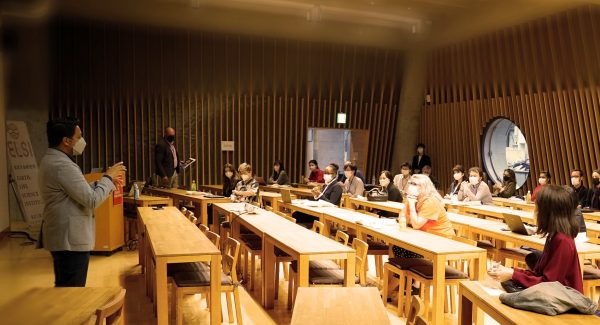 "Science is a multi-layered enterprise, where new and old information is being shared by a variety of stakeholders," says Thilina Heenatigala, ELSI's specially appointed assistant professor and director of communications. "This in- and outward communication between different layers is crucial for understanding and advancing science."
Heenatigala is a lecturer of the course "Communicating Earth-life science to the world", under ELSI's integrated five-year graduate program. It aims to equip graduate students with practical skills to communicate research to a scientific community, policymakers and the public.
Through lectures, discussions and projects, students learn answers to questions like what is science communication, how differently do scientists and the public understand research, and what are researchers' responsibilities in morals and ethics?
The course is led by Heenatigala, ELSI's vice director John Hernlund, and biogeochemist Shawn McGlynn, who bring in key skills and knowledge on public and media engagement, organising large-scale scientific meetings and outreach at an institution level, and building collaborations and dealing with academic decision makers.
"It was an interesting course where we learned different facets of scientific communication, like public engagement, scientific meetings, publishing scientific papers, and press releases," says Riddhi Gondhalekar, a graduate programme student who participated in the course.
Scientist-public relationship
Learning how to communicate science effectively at the start of a career helps young researchers in various ways. For example, it equips them with the skills necessary to present at a conference and build a network. "But most importantly, it helps them think of their scientific activities being connected to the society," Heenatigala says.
Heenatigala explains that students are "quite keen" to understand what science can give society, discuss how public outreach can be a means to return taxpayer investment in science, and scrutinise diversity, equity and inclusion in today's academia.
"While the course provides fundamental tools and skills for science communication, it is these discussions that drive students to become a responsible scientist in the future."
Not all science students are familiar with the idea of studying communication. Nevertheless, collaborating with others and working on project-based assignments help them navigate the course.
"One of the students did a public lecture as part of the final exam and mentioned how rewarding it was to learn about effective public engagement," he says.
A new career path
Outside the course, students are encouraged to participate in ELSI's outreach activities and to join an organisation for science communicators. This provides an opportunity to learn from experts, create a network, and have a peek at careers in science communication.
One such group is the Japan Scicom Forum, an English-language-based community for people involved in international research outreach and is coordinated by Heenatigala and colleagues from different institutes.
The members, including press officers, researchers and students, meet at an annual conference, which was hosted by ELSI between 2018 and 2021, and also organise webinars with experts and hold other social events. "We also hope to provide research projects for interns in the future," Heenatigala says. The projects will be focused on Japan, such as evaluating science communication in the country and assessing public engagement at research institutions, science museums and centres.
Unlike in some other countries, science students in a master's or doctorate programme in Japan rarely receive science communication training or meet science communicators on the ground. Heenatigala says that ELSI took a "step forward" by adding a mandatory science communication course in the graduate programme.
"This lack of training is a major drawback for Japan, as we cannot produce science communicators, and science graduates do not have the option to go into the field."
ELSI wants to change this in the future. It is currently seeking to work with another university and offer a science communication course in English to anyone in Japan, including students, researchers and outreach staff.
"In the long term, the plan is to extend the science communication course into a graduate programme, called science communication and society, which covers master's and doctorate degrees," says Heenatigala.
__________
EDITOR: The article was first published in the Asia Research News in FY2022.